Jurnal Online merupakan aplikasi web based yang menggunakan Open Journal System untuk pengelolaan jurnal di Institut Teknologi Dirgantara Adisutjipto Yogyakarta yang diterbitkan secara online. Setiap artikel yang diterbitkan dalam jurnal kami akan diberi nomor doi dan memiliki jurnal versi cetaknya. Untuk mendapatkan versi cetaknya dapat menghubungi masing-masing Journal Manager yang namanya sudah kami cantumkan.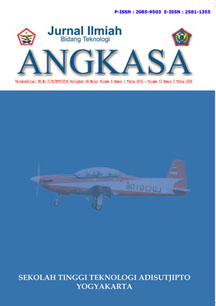 Angkasa: Jurnal Ilmiah Bidang Teknologi
Angkasa Scientific Journal of Technology published by Adisutjipto Institute of Aerospace Technology starting with Volume 1 Number 1 in 2009 with the printed ISSN number 2085-9503 and published on line with ISSN 2581-1355 using Open Journal System (OJS). Angkasa has been indexed in the PKP database, Science and Technology Index (SINTA), Digital Reference Garba (GARUDA), Bielefeld University Library (BASE), NELITI, National Library (One Search), and Google Scholar with h-index : 9.
Indexed:
View Journal | Current Issue | Register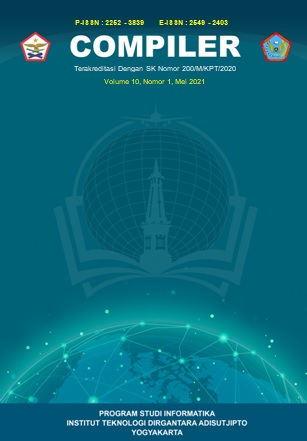 Compiler
Compiler is one of the journals published by Adisutjipto Institute of Aerospace Technology. This journal has the scope and focus on the fields of computer science and informatics, first  printed published 2012 with P-ISSN 2252-3839 in May and November. The Compiler was published in Open Journal System (OJS) 2016 with E-ISSN 2549-2403. Writing on articles published in English has doi 10.28989/compiler.xxxx.xxxx. The publishing process is preceded by checking the writing system which must be in accordance with the applicable template, if the writing procedures of the articles sent by the author in * .doc or * .docx are in accordance with the template, then the review process is carried out within two weeks by two Compiler reviewers. If the reviewer makes a decision on the article from the author being accepted, the article will be published in the month in which the compiler is regularly published. All articles published on the Compiler are indexed on Google Scholar and some are on Google Metrics.
Indexed
New cover for print issue from volume 10 number 1 year 2021 :
View Journal | Current Issue | Register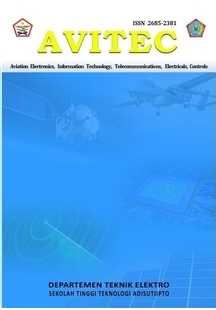 AVITEC
Aviation Electronics, Information Technology, Telecommunications, Electricals, Controls
AVITEC is an open access and peer-reviewed journal on electrical engineering.
This journal aims to provide a platform for academicians, researchers, and practitioners to share their experience and solution to problems in the area of journal scopes. 
The AVITEC publishes full papers on original contributions within the general topics of:

Aviation electronics: aircraft navigation, aircraft communication, aircraft electronic-system, aircraft electrical systems, and radar.

Information technology: Software Engineering, Information System, Data Mining, Multimedia, Mobile Programming, Artificial Intelligence, Computer Graphic, Computer Vision, Augmented/Virtual Reality, Games Programming, Internet of Thing

Telecommunications: Modulation and Signal Processing, Information Theory and Coding, Antenna and Wave Propagation, Wireless and Mobile Communication, Radio Communication, Satellite Communication, Fiber Optic, Network, and System.

Electricals: Power Generation and Distribution, Microelectronic System, VLSI Design, Biomedical Instrument, Embedded System, Communication Electronic, Optoelectronic.

Controls: Robotics, Mechatronics, Instrumentation and Control.
But it is not limited to the section above. Submission of articles to be published on AVITEC through this web site by registering first. Articles sent must be in accordance with the AVITEC's template. Articles that have gone through this editor stage will then be reviewed by AVITEC reviewers. Every submitted paper will be blind-reviewed by peer-reviewers. Reviewing process will consider novelty, objectivity, method, scientific impact, conclusion, and references.

AVITEC is covered in several abstracting and indexing databases including the given below:
View Journal | Current Issue | Register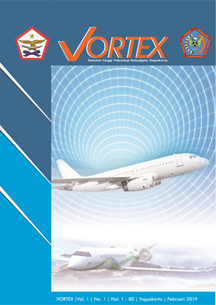 Vortex
Vortex adalah jurnal yang di kelola oleh Jurusan Teknik Penerbangan Sekolah Tinggi Teknologi Adisutjpto Yogyakarta telah memiliki P-ISSN : 2721-6152 dan terbit satu tahun dua kali pada bulan Januari dan Juli dengan focus dan cakupan:
Perancangan Pesawat Terbang

Perawatan Pesawat Terbang


Operasi Penerbangan

Mesin

Informatika

Elektro Penerbangan

Indexed
View Journal | Current Issue | Register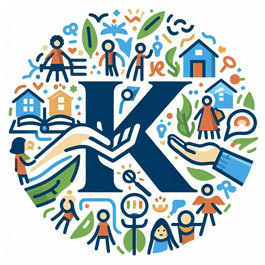 KACANEGARA Jurnal Pengabdian pada Masyarakat
KACANEGARA Jurnal Pengabdian pada Masyarakat Adisutjpto merupakan jurnal pengabdian pada masyarakat yang digunakan untuk mempublikasikan hasil pengabdian pada masyarakat yang dilakukan oleh civitas academica. Kacanegara terbit setiap bulan Januari dan Juli ini memiliki ISSN Cetak dengan nomor 2615-6717 dan ISSN On Line dengan nomor yang  2657-2338 diharapkan dapat meningkatkan peran kampus terhadap kehidupan berbangsa dan bernegara serta membantu masyarakat dalam meningkatkan kesejahteraannya. Kacanegara mendapatkan pengakuan dari Kementerian Riset dan Teknologi / Badan Riset dan Inovasi Nasional  sebagai jurnal pengabdian pada masyarakat Terakreditasi Sinta S4. Oleh karena itu maka template KACANEGARA sudah berubah dan dapat diunduh disini (klik).
Informasi tentang pengiriman artikel:Artikel yang dikirimkan oleh penulis (author) akan dilihat dan dibaca oleh editor, jika masih ada ketidaksesuaian dengan template yang berlaku serta tidak sesuai dengan scope Kacanegara maka artikel tersebut akan dikembalikan kepada penulis. Jika sudah sesuai maka artikel akan diteruskan kepada reviewer kacanegara untuk dilakukan proses review yang dilakukan oleh reviewer Kacanegara. Sebanyak dua reviewer (dalam satu ronde) atau satu reviewer ( dalam dua ronde) dalam jangka waktu dua minggu penilaian artikel.
Terindek di:
View Journal | Current Issue | Register
1 - 5 of 5 Items