Compiler is one of the journals published by Adisutjipto Institute of Aerospace Technology. This journal has the scope and focus on the fields of computer science and informatics, first  printed published 2012 with P-ISSN 2252-3839 in May and November. The Compiler was published in Open Journal System (OJS) 2016 with E-ISSN 2549-2403. Writing on articles published in English has doi 10.28989/compiler.xxxx.xxxx. The publishing process is preceded by checking the writing system which must be in accordance with the applicable template, if the writing procedures of the articles sent by the author in * .doc or * .docx are in accordance with the template, then the review process is carried out within two weeks by two Compiler reviewers. If the reviewer makes a decision on the article from the author being accepted, the article will be published in the month in which the compiler is regularly published. compiler is published 2 times in 1 year in May and November (Timelines)  All articles published on the Compiler are indexed on Google Scholar and some are on Google Metrics.
Indexed
Collaborate with : 
New cover for print issue from volume 10 number 1 year 2021 :
Old covers used in printed publications from volume 1 number 1 in 2012 to volume 9 number 2 in 2020 :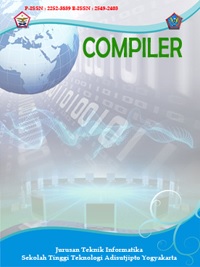 Sinta Accredited

S4 accredited compiler

for issue of Volume 9 Number 1 in 2020 - Volume 13 Number 2 in 2024
Posted: 2021-01-27
More...

Call for Reviewer

COMPILER Journal with  P-ISSN: 2252-3839 and E-ISSN: 2549-2403 is a peer-reviewed scientific journal that publishes articles dedicated to Mathematics and Statistics, Algorithms and Programming, Intelligent Systems, Software engineering, Computer Architecture, Distributed System, Electronics and Embedded Systems , Data and Information Management, Information Systems, Enterprise System and Flight Simulator.

Posted: 2021-01-27
More...